This is one of the easiest and tastiest tomato sauce I have ever made. (I actually make it once per week 🙂 It is super easy to prepare and you can use it for pasta dishes or as a pizza sauce. The only thing you need is well-riped tomatoes. They will give an incredible taste and flavors to the sauce. The rest is all about good seasoning and some time.
PS: If you wonder why the sauce is orange and not red, this is because I used skinned tomatoes and because they were blended. Majority of the sauces which you see on the internet or grocery stores are artificially colored.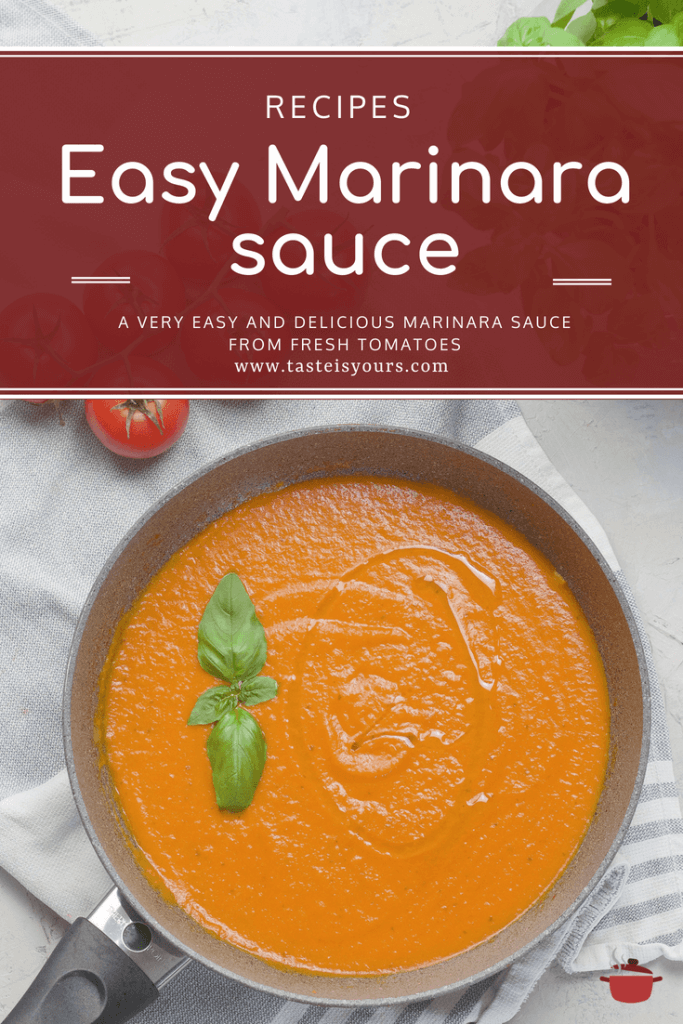 Easy Italian Marinara Sauce from fresh tomatoes.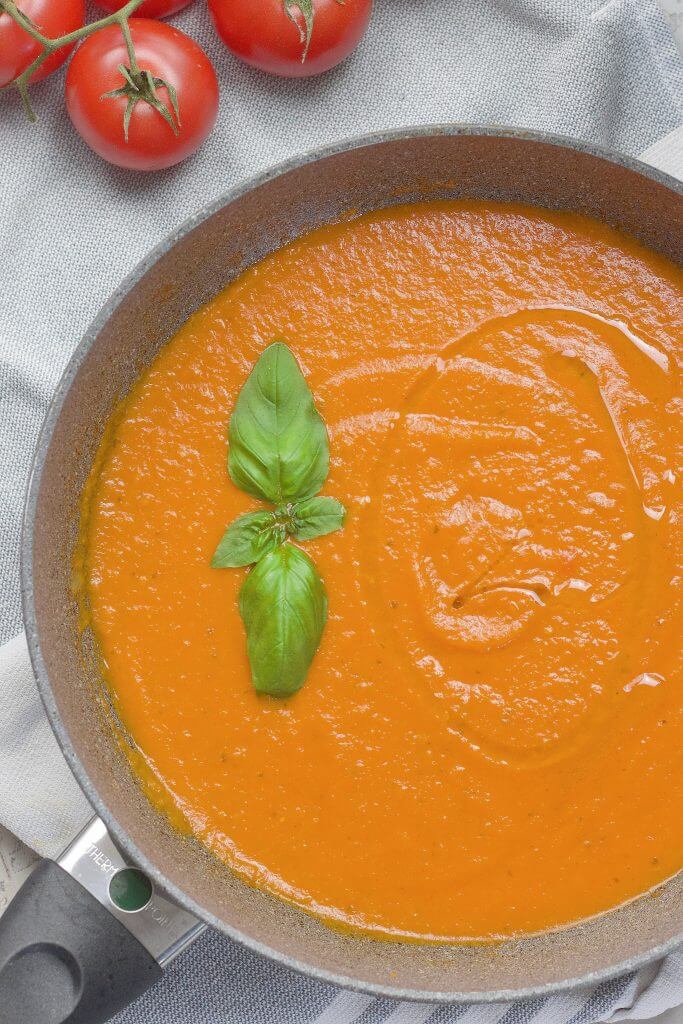 Easy Italian Marinara Sauce from fresh tomatoes.
Przepis autorstwa tasteisyours
Danie: Dinners, Lunches, Recipe book, VeGaN meals
Kuchnia: Italian
Stopień trudności: Łatwe
Czas przygotowania
10
minut
Very easy recipe for Italian Marinara Sauce from fresh tomatoes. You will love it!
Składniki
750g of skinned ripe tomatoes (in case you want to know how to skin a tomato check out the video here)

1 onion, diced

4  garlic, minced

1 bay leaf

fresh basil leaves

3 tablespoons of olive  oil

solą
Instrukcje
Heat up a pan and add 2 tablespoons of olive oil. Add the diced onion and cook for 6-7 minutes or until golden.
Meanwhile, transfer the tomatoes to a bowl and crush them with a fork.
When the onions are ready, add the garlic and pour over with crushed tomatoes. Add few basil leaves, the bay leaf and cook for at least 1 hour or until the sauce is reduced. Stir the sauce several times during cooking.
Once ready add 1 tablespoon of olive oil into the sauce and a few chopped basil leaves. Season with salt to taste.
Transfer the sauce to the blender and blend for 30-45 seconds until you get a smooth sauce.
Serve with your favorite pasta, gnocchi or use as a pizza sauce.
Smacznego 🙂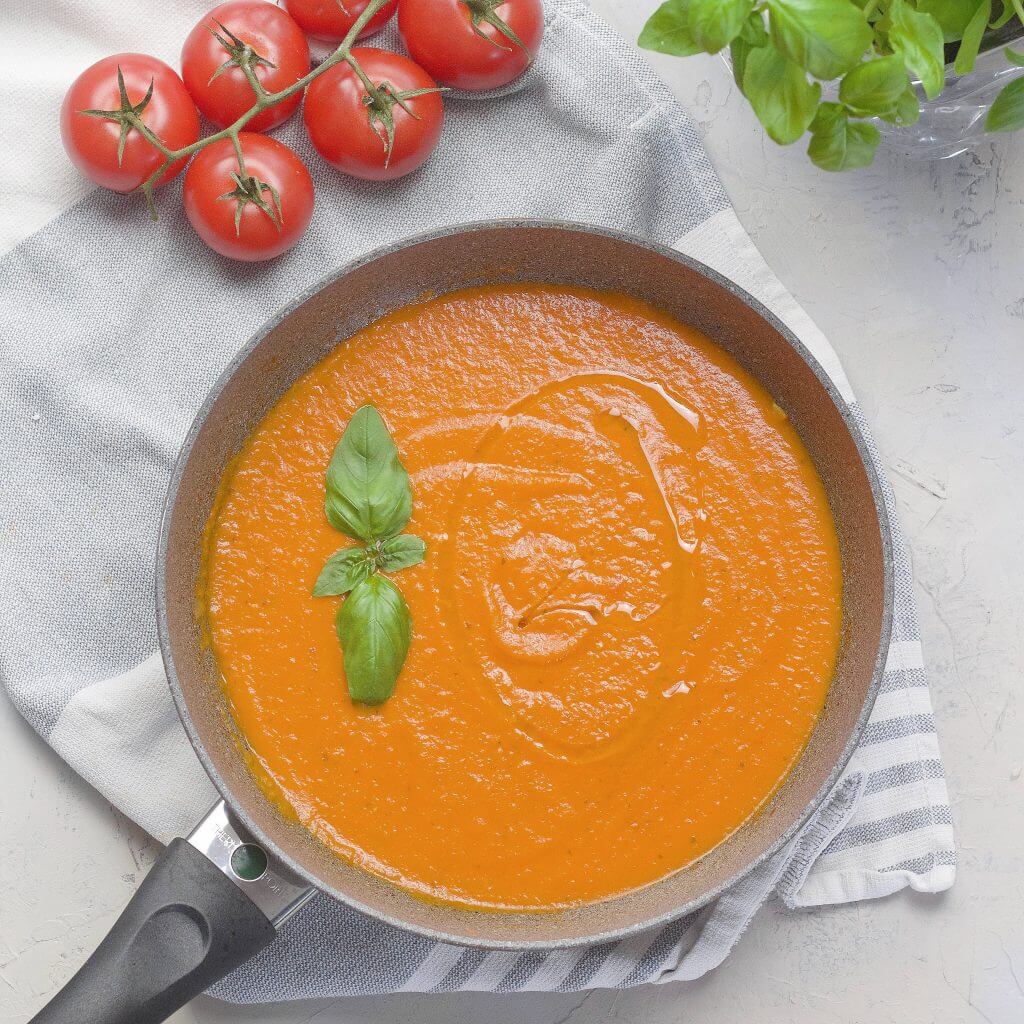 Related posts
Poznaj autora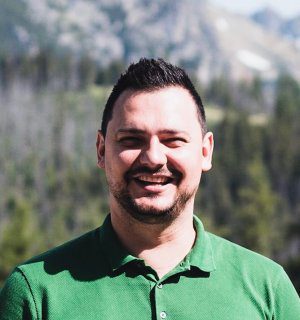 Życie jest wspaniałe, wino czyni je lepszym...
Hi, my name is Jan and I am the creator of Taste Is Yours. A food blog were I share my most favorite recipes and food related stories...
Learn more
Subscribe now!
* You will receive the latest news and updates once a new recipe goes live!