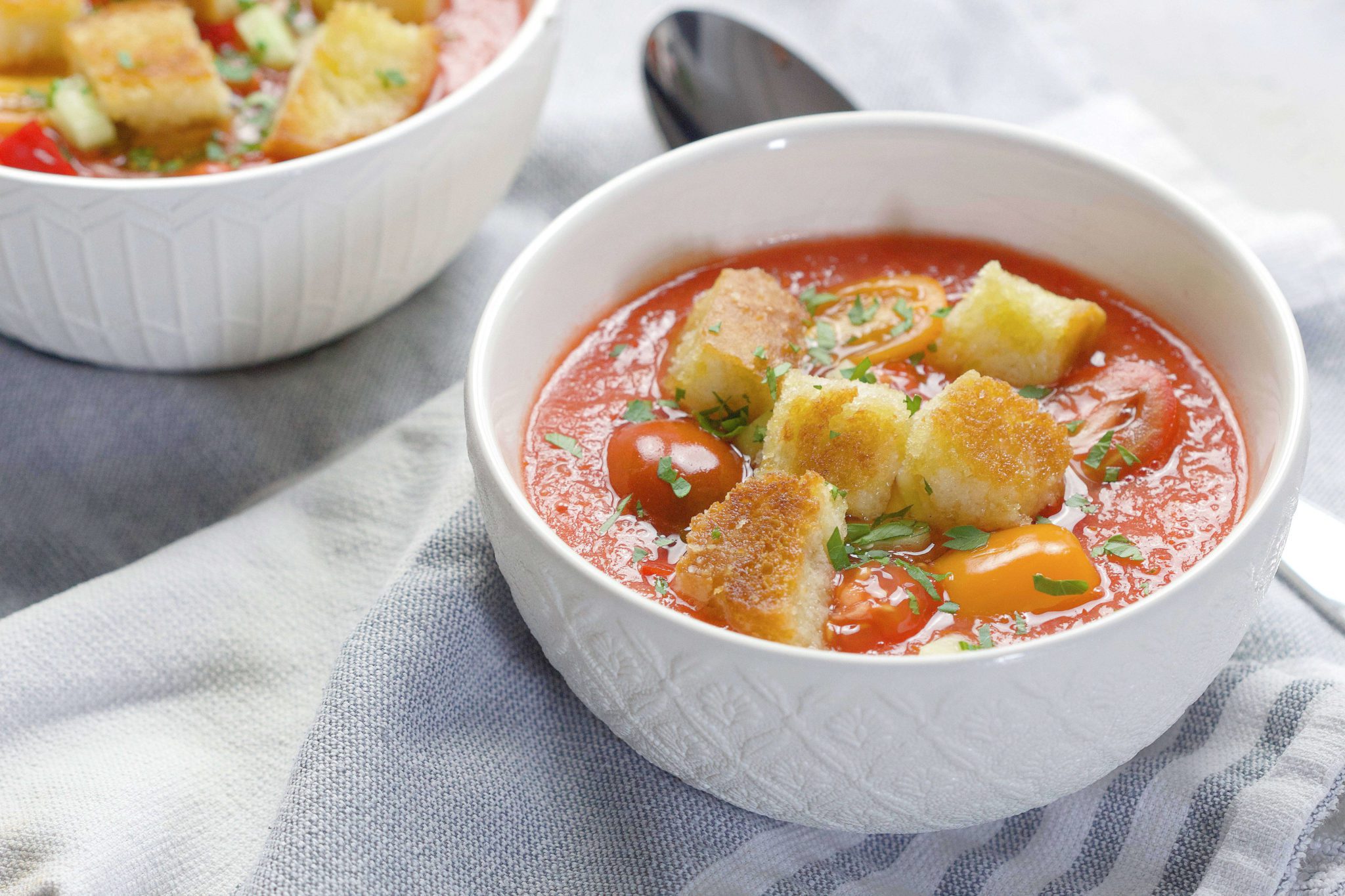 Best summer, vegan Gazpacho to cool you and your friends down during a heatwave.
I made it a few times in my life but it never tasted somehow special. So I have made some research and checked out several recipes online. In the majority of them, the ingredients and directions were very similar to each other. But as I learned very quickly, the best is to use a high quality (homegrown) tomatoes. They will give an unbelievably good and rich taste to your gazpacho no matter how you make it and what you put into it.
For this recipe, I have used the last "homie" tomatoes, and a few more ingredients. The whole thing was ready in 45 minutes but don't worry, you will need 30 minutes to marinate the veggies in the vinegar. So you can still have coffee in between 🙂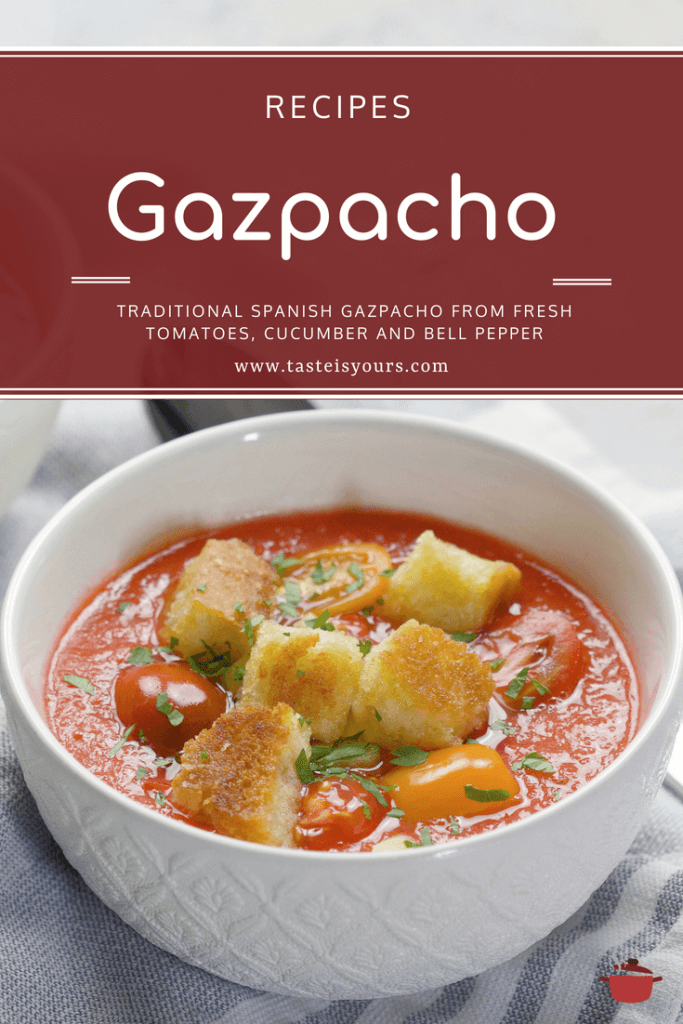 Best Gazpacho or cold tomatoe soup to cool you down during a summer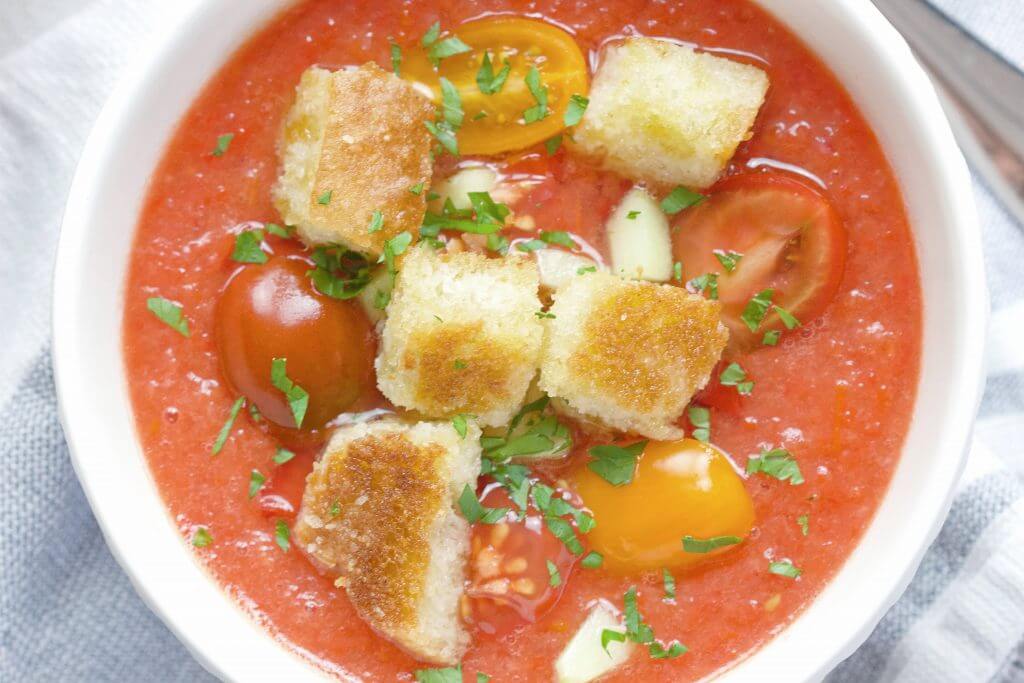 Best Gazpacho to cool you down during a summer
Przepis autorstwa tasteisyours
Course: Lunches, Recipe book, VeGaN meals
Cuisine: Spanish
Difficulty: Easy
 
Traditional Spanish gazpacho from fresh tomatoes, cucumber and bell pepper. All served with toasted rye bread and cherry tomatoes. It's vegan and very delicious.
Ingredients
4 tomatoes (very ripe and homegrown if possible)

1 cucumber (medium size)

1 red bell pepper

2 tbsp red wine vinegar

4 tbsp olive oil

1 clove garlic

1-2 shallots

flaky salt

few colourful cherry tomatoes for garnishing

2 slices rye bread
Directions
Deseed and roughly chop the bell pepper. Peel and deseed the cucumber, then cut into smaller pieces. Peel and finely chop the garlic and the shallots.
Cut the tomatoes in half and scrape out the seeds. Then cut into smaller pieces.
Transfer the cucumber, red pepper, shallots, garlic, and the tomatoes into a bowl. Pour over with 2 tablespoons of red wine vinegar and season with 1 teaspoon of flaky salt. Mix well and set aside for 30 minutes at room temperature.
Meanwhile, heat up a pan and place in the rye bread slices. Drizzle over with some olive oil and roast until the bread edges turn golden. Once ready, chop roughly and set aside.
Transfer the marinated veggies into a blender with all the juices from the bowl. Add 3 tablespoons of olive oil and blend on medium speed for 1-2 minutes, or until you will get a smooth puree. Season with more salt or vinegar if needed and place into the fridge to cool completely.
Serve cold with sliced cherry tomatoes and the toasted bread pieces.
Enjoy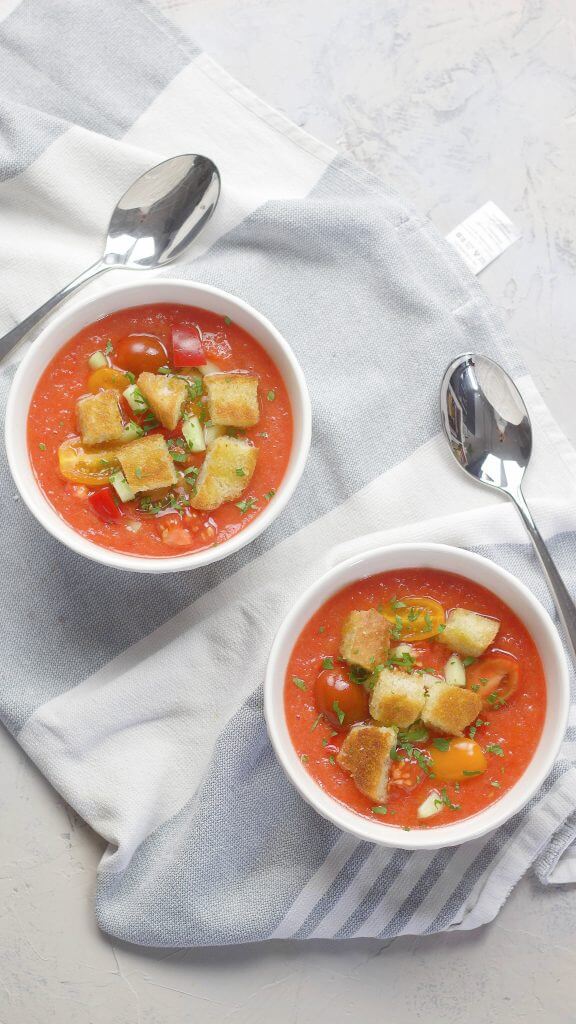 Related posts
Meet the Author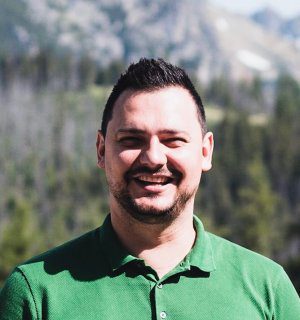 Life is great, wine makes it better...
Hi, my name is Jan and I am the creator of Taste Is Yours. A food blog were I share my most favorite recipes and food related stories...
Learn more
Subscribe now!
* You will receive the latest news and updates once a new recipe goes live!