I live in Cracow for almost 6 years but have discovered the maczanka Krakowska only this year. This dish is one of the most traditional foods made in Cracow, thus the name "Krakowska". Even though the dish was originally served in the majority of the Cracow restaurants, nowadays You can mostly find it on the streets in food trucks.
There are several places where you can try it out like Andrus Food Truck but if you want to take it to the next level, I simply recommend making it at home. The preparation takes some time, but the cooking itself is almost effortless.
And what is actually Maczanka Krakowska?
Maczanka Krakowska – the history.
Maczanka Krakowska or Maczanka po Krakowsku is actually a burger filled with either pulled pork or pork neck slices. The first signs of maczanka are going back to the 19th of the century. People usually made it from the leftover meat and sauces they had after some kind of party. It quickly became so popular that it appeared in almost all the Cracow restaurants.
The basic maczanka is made with a huge slice of pork neck that was brined, then baked, and then cooked for several hours. It is served in a basic water bun (I included the recipe below) with onions. Today there are many versions that include for example beetroot, some kind of cheese, and pickles.
Many people say that maczanka is a grandmother of all burgers and it was brought to the United States by Polish immigrants at the beginning of the 20th century. There it inspired the McDonalds brothers to create their first burgers. Today we all know how successful that fast-food chain and its burgers are.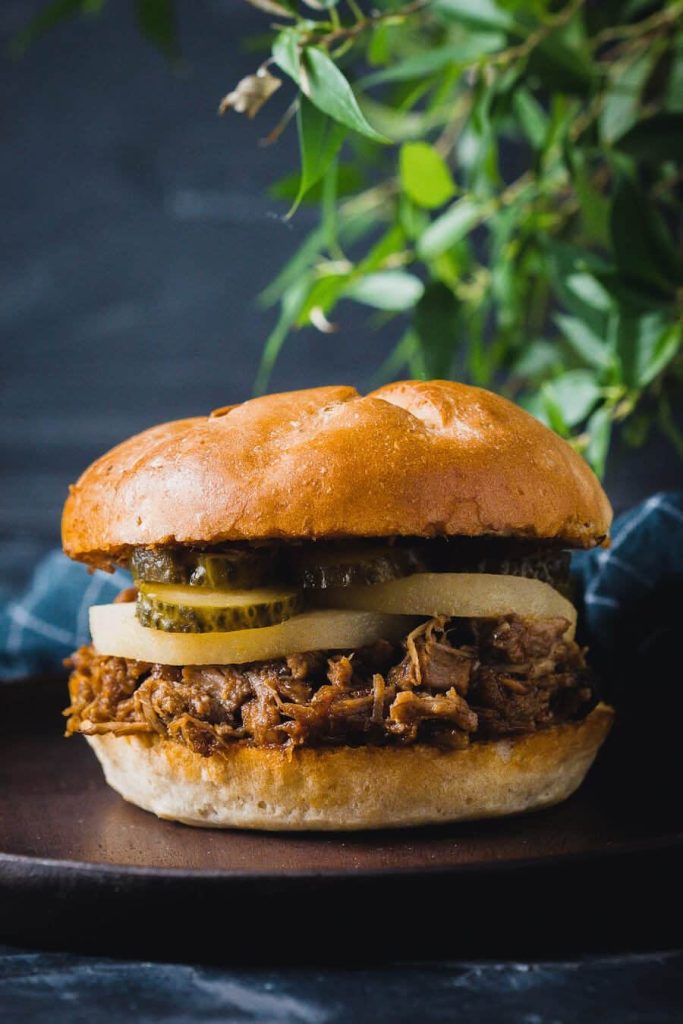 Maczanka Krakowska – how to make it?
For my maczanka I took the inspiration from Meatmyday.pl that had one of the most reliable recipes. In the end, I adjusted the seasonings as the original version was too salty for me. Also, I have made my own buns (the recipe is in the notes) that made the dish even more delicious. 🙂
This version includes pulled pork not the pork neck slices, marinated pears, pickles, horseradish, and mustard. Once you take a bite the flavors will explode in your mouth. The meat will be super tender and juicy, the pears will add a bit of crispness and the horseradish will give it a nice Polish touch. Even just writing about it makes me wanna have it immediately 🙂
And how to make it?
Maczanka Krakowska recipe – Polish street food made in Cracow.
Przepis autorstwa tasteisyours
Danie: Książka z przepisami
Kuchnia: Polska
Stopień trudności: Medium
Czas przygotowania
16
godziny
The best recipe for homemade Maczanka Krakowska – the Polish street food
Składniki
1,5 kg pork neck (1 piece or several slices 2cm thick)

300g smoked bacon, cut into thin smaller pieces

10 pieces champignon mushrooms, quartered

5 medium yellow onions

4 fresh rosemary sprigs

2 tbsp cumin seeds

500 ml dry red wine

1 1/2 cup bullion

4 tbsp red paprika powder

3 tbsp pork fat

100g of salt

ground black pepper

buns

pickled cucumbers

marinated pears

mustard

horseradish
Instrukcje
Prepare your brine for the meat. Mix 2L of cold water and dissolve the salt. Soak the meat in the water and let it brine for at least 12 hours, or overnight in a cold place. The fridge is very ok. This step will make the meat very tender so do not skip it.
Take out the meat from the brine and pat dry with a kitchen towel. Cut the meat into a bigger chunks.
Heat up a bigger pan or a skillet and add the pork fat, then roast the meat quickly from all the sides. Transfer the meat into a roasting pan with lid.
Preheat your oven into 140°C. Meanwhile add into the roasting pan the bacon, quartered mushrooms, and sliced onions. Season with the red paprika powder, cumin seeds, add the rosemary sprigs and pour over with wine and 1/2 of the bullion. Cover with the lid and bake for 3 hours stirring from time to time.
Once ready transfer the meat into a pot or casserole and the second half of the bullion. Cook for 1 hour on a low heat stirring from time to time. Also, you can break down the meat into smaller pieces. At the end it should look like a pulled pork.
Assembly of the maczanka: cut the buns in half and soak both pieces in the sauce. Spread 1/2 teaspoon of horseradish and 1/2 teaspoon of mustard on the bottom part of the bun and then add generous portion of the meat on top. Place one piece of marinated pear and pickled cucumber on top of the meat and cover with the top of your bun.
Smacznego 🙂
NOTATKI
Water buns recipe: 3 cups of flour, 3/4 of lukewarm water, 7g of dry yeast, or 20g of fresh yeast, 1 1/2 teaspoon of granulated sugar, 1 flat teaspoon of salt, 1 egg, and 2 tablespoons of butter at room temperature. Place all the ingredients into a bowl and start kneading the dough. Once all the ingredients are combined knead for 5 more minutes. Then leave the dough to rest for 10 minutes. Then knead for another 10 minutes, cover with a kitchen towel, and place it into a warm place. Let it rise for 60 minutes and then split the dough into 8 smaller balls. Gently flatten each ball and place on a baking tray covered with baking paper. Leave to rise for 45 minutes. Bake in preheated oven for 15 to 17 minutes on 225°C on the top/bottom mode.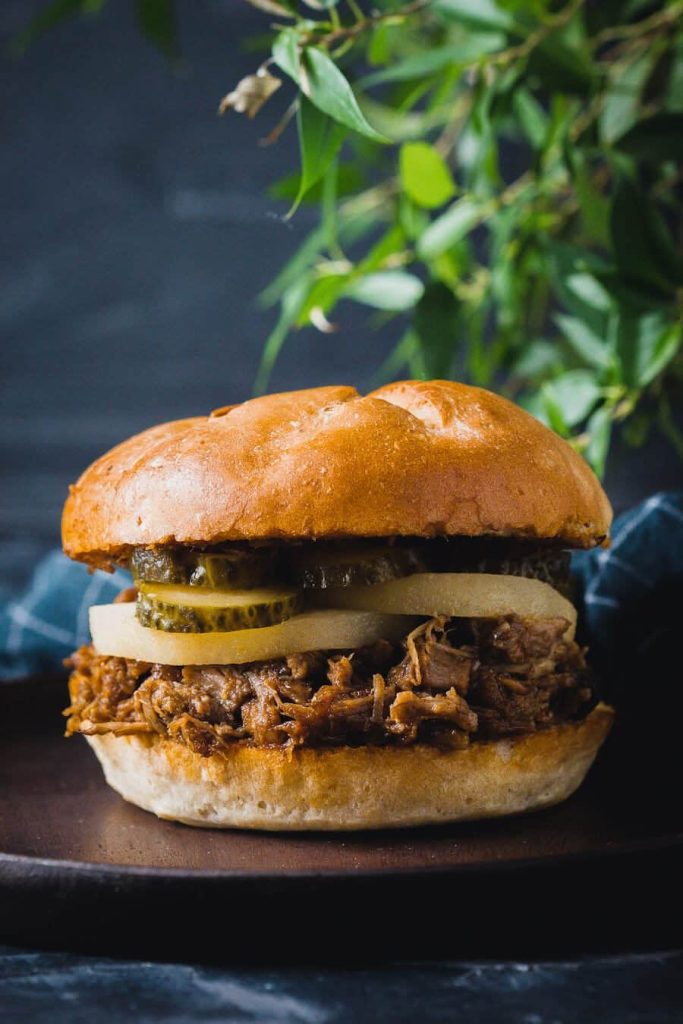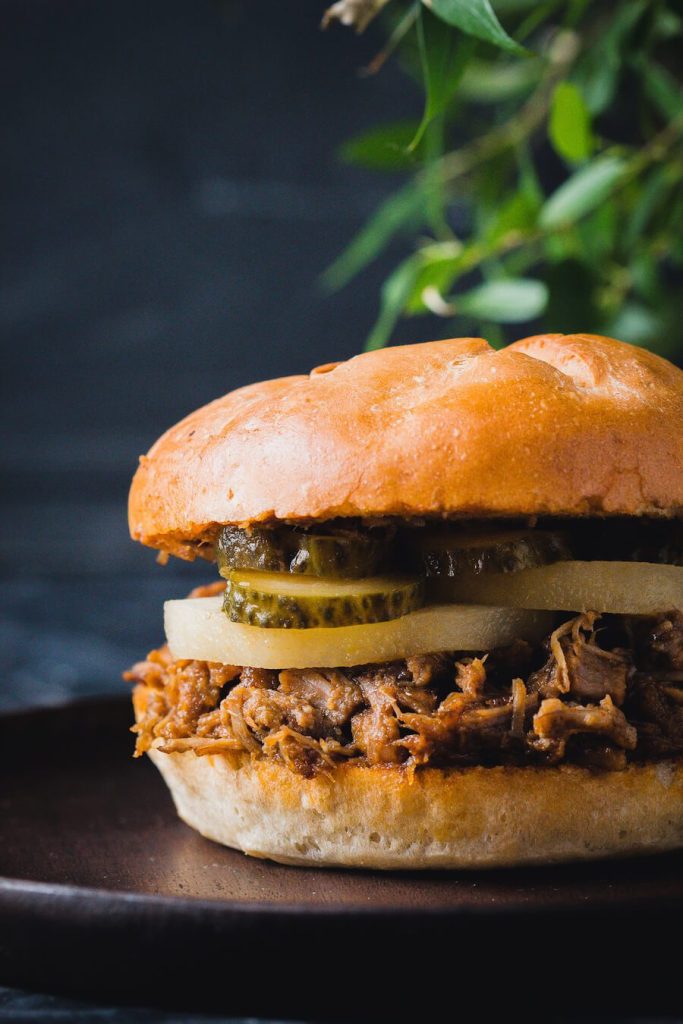 ---
Related articles:
Cracow sausage (kielbasa Krakowska) – an authentic Polish recipe.
Ciasto Pischinger z nadzieniem czekoladowym – autentyczny polski deser.
Related posts
Poznaj autora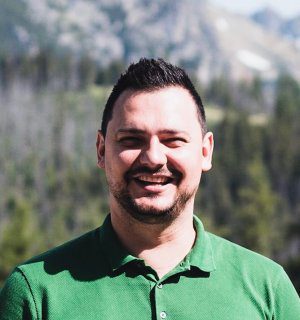 Życie jest wspaniałe, wino czyni je lepszym...
Hi, my name is Jan and I am the creator of Taste Is Yours. A food blog were I share my most favorite recipes and food related stories...
Learn more
Subscribe now!
* You will receive the latest news and updates once a new recipe goes live!