Schab wieprzowy jest bardzo popularnym w Polsce daniem. Nic dziwnego- proste wykonanie, które nie wymaga dużych umiejętności oraz, oczywiście, wspaniały smak.
Dokładnie tak jak w dzisiejszym przepisie.
Jeśli chcecie poświęcić nieco więcej czasu i przyrządzić idealne danie, polecam zamarynować mięso kilka godzin lub całą noc wcześniej.
Marynata doda smaku na zewnątrz, a suszone śliwki złagodzą całość od środka.
Więc, jak zrobić tradycyjny schab ze śliwką w domu?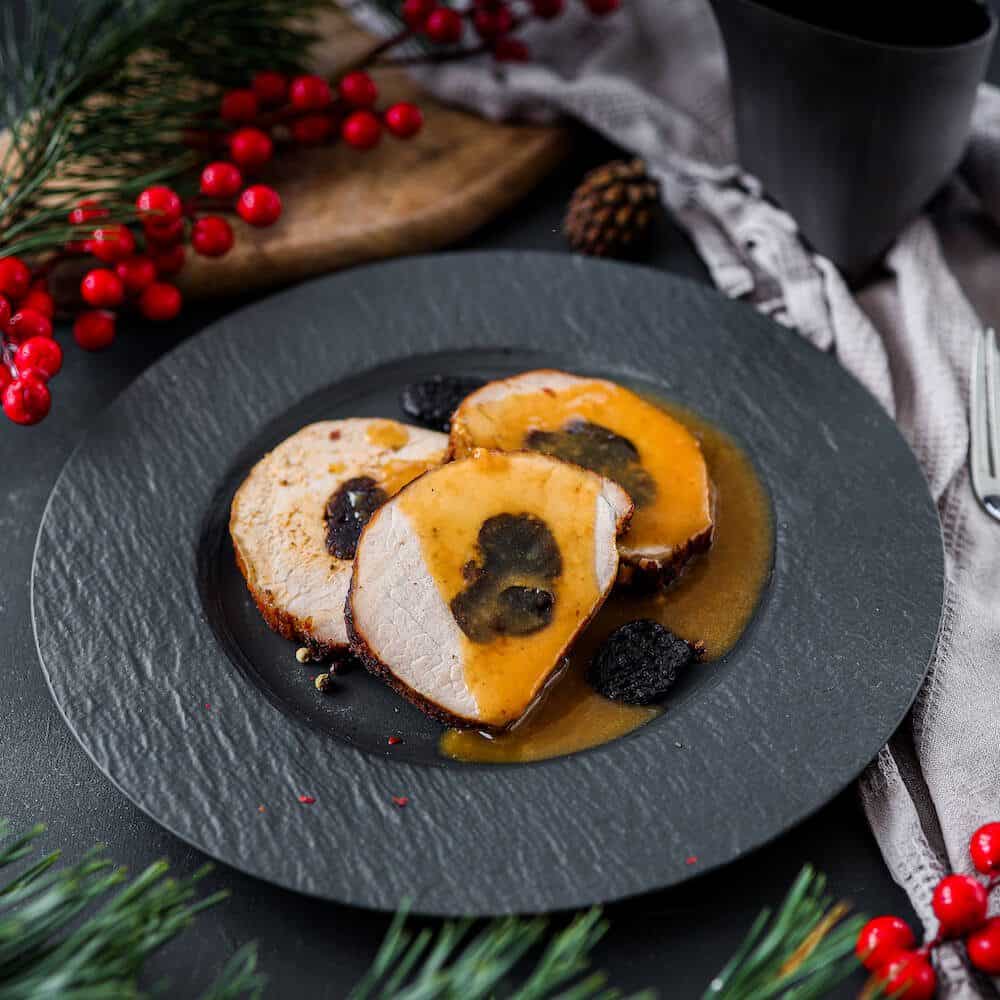 Więc, jak zrobić tradycyjny schab ze śliwką?
Po pierwsze, będziecie potrzebować kawałka schabu wieprzowego, suszonych śliwek, przypraw i naczynia do pieczenia z pokrywką.
Ja polecam ten:
Pyrex 4937387 Essentials szklany prostokątny garnek wysoka odporność 4,3 l
Gdy mięso będzie gotowe do podania, możecie serwować je z dowolnymi innymi daniami. Osobiście, najbardziej polecam go z ugotowaną kaszą lub ziemniakami.
Smacznego 🙂
Tradycyjny polski schab nadziany suszonymi śliwkami.
Przepis autorstwa tasteisyours
Danie: Książka z przepisami
Kuchnia: Polska
Stopień trudności: łatwe
Czas przygotowania
6
godziny
Składniki
1kg schabu wieprzowego

2 łyżki suszonego majeranki

3 łyżki czerwonej papryki

1 łyżeczka suszonego czosnku

2 łyżki oleju roślinnego

1 łyżka mąki

trochę wody

1 łyżeczka soli
Instrukcje
Na początku pozbądź się skóry z mięsa. Ostrym nożem wytnij małą dziurę (kieszeń) w połowie, prawie do końca kawałka. Nie wycinaj dziury, która idzie przez całe mięso.
Wypełnij wyciętą dziurę suszonymi śliwkami.
W większej misce wymieszaj ze sobą przyprawy i olej. Przełóż mięso do tak przygotowanej marynaty.
Przykryj miskę z mięsem folią aluminiową i przełóż do lodówki na kilka godzin lub całą noc.
Wyjmij zamarynowane mięso do temperatury pokojowej. Po kilkunastu minutach rozgrzej większy rondel i dodaj odrobinę oleju. Osmaż mięso ze wszystkich stron, aż do uzyskania brązowego koloru, aby pory zamknęły się przed pieczeniem.
Piecz mięso w nagrzanym do 190 stopni piekarniku przez 60 minut.
Podawaj na przykład z kaszą lub ziemniakami.
NOTATKI
Mięso wyjmujemy z lodówki przed pieczeniem. Podgrzanie go do temperatury pokojowej zapobiegnie szokowi termicznemu i stwardnieniu mięsa.
Na każdy 1 kg przyrostu mięsa dodać 60 minut pieczenia w piekarniku.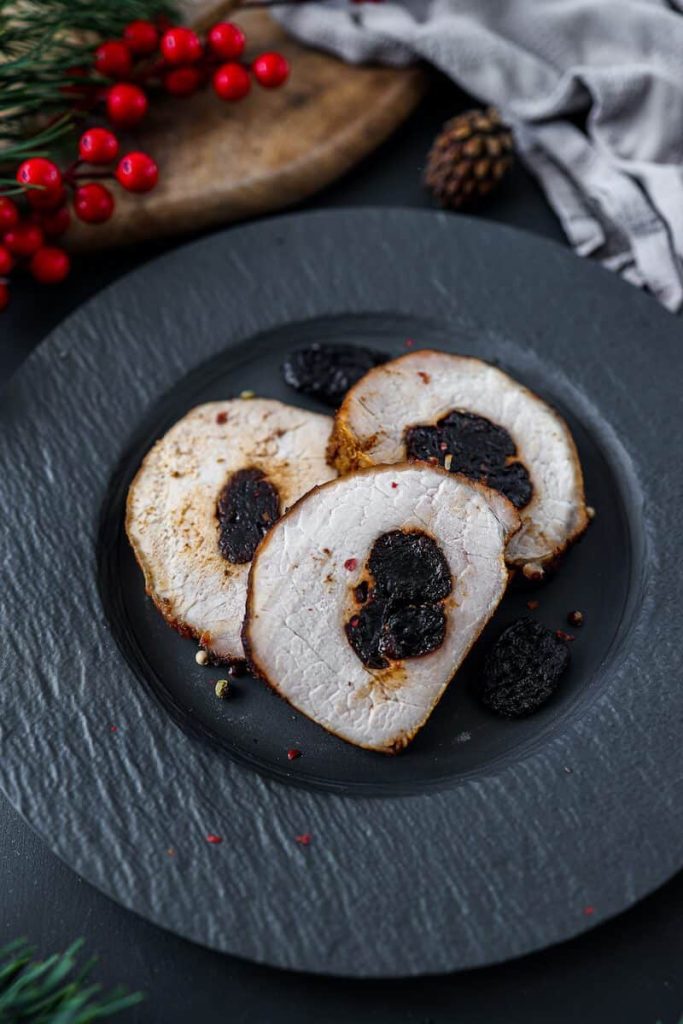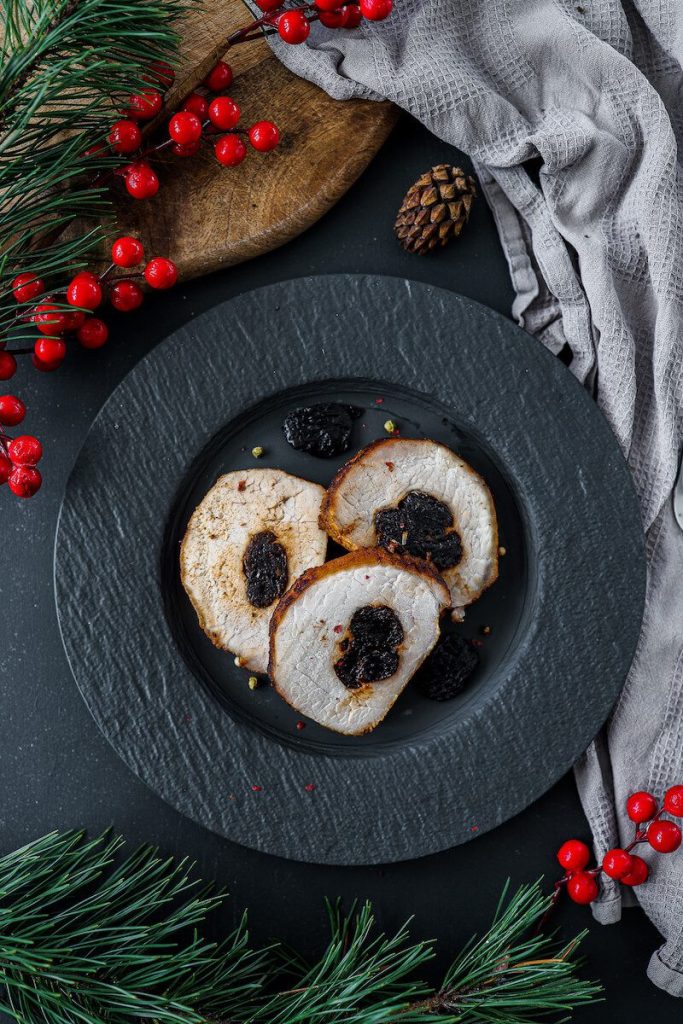 Related posts
Poznaj autora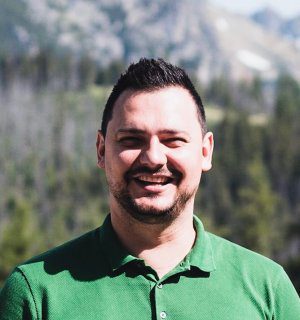 Życie jest wspaniałe, wino czyni je lepszym...
Hi, my name is Jan and I am the creator of Taste Is Yours. A food blog were I share my most favorite recipes and food related stories...
Learn more
Subscribe now!
* You will receive the latest news and updates once a new recipe goes live!